Simple Tips to Reduce Waste Costs and Increase Recycling ?
Recycling has caused quite a stir this last decade and has quickly evolved from a 'good idea' to a regulatory requirement and Brand expectation. While the issue of "waste and recycling" may not seem exciting, it's important and starts from the top. With some small changes the results can be very rewarding - certainly from a business cost and environmental perspective.
As recycling continues to develop, so does the technology. Facility managers need to keep improving their disposal systems and implement new innovation to achieve the most efficient and cost-effective waste management solution possible. With that in mind, Easi Recycling has put together our five top tips to help facility managers implement a simple but effective waste and recycling programme, that benefits your bottom line, brand credibility and the planet too.
Tip 1 – Start with a simple waste audit

Whether you manage shopping centres, office blocks, hospitals, care homes or airports, a simple waste audit helps you to determine the type and volume of waste that's generated in each area of your facility. Having just one bin for all types of waste rarely works well. Bespoke systems should always be used - depending on what type of waste is produced by whom and where.

Separating dry mixed recyclable waste can be a quick win. These materials need to be separated properly at source, ideally using clearly signed bins for mixed recycling and for large organisations spread over a large site, preferably yellow coloured bags for easy identification, this ensures they are disposed of in the correct skip or bin and collected for recycling.

Food waste, depending on volume should be separated at source too. This prevents cross-contamination of recyclables, if you have an organic collection service, green sealable bags or bio-degradable bags are ideal. If food is not collected separately then it should go into the General Waste bin.

General waste is normally collected in red or black bags, this should be kept to a minimum as it's often destined for landfill.

A common mistake that we see in large buildings such as offices, is that many 'under desk' or 'department' bins are used with no segregation of waste at source.
Tip 2 – Optimise your waste collection schedule

It's a good idea to dust off your contract for waste collections. Check your bins and skips – are the correct waste streams going into the correct skip? Do you have mixed recycling bins ? try to find out what % of your waste goes in these and set a target to improve. Small changes can give substantial cost savings.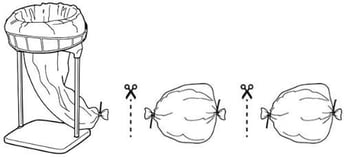 Compacting bagged waste before it's disposed of can also make a significant difference. This can either be done mechanically or manually. In addition, using our unique Longopac bagging solution ensures that waste bags are always 100% filled, reducing plastic waste and liner usage. These bags can also be hand squashed, further reducing volumes by up-to 50%. Learn more here.
Tip 3 - It's all about location

An effective waste and recycling programme should allow employees and the public to easily self sort waste material close to the source of generation. Placing the correct type of container for that type of waste stream with clear signage or colour-coding will take away a lot of confusion. For example, use mini recycling stations in office area's rather than a small bin under every desk, have paper collection bins near photo copiers and food collection bins in areas where food is served or prepared. It's much easier to encourage staff and the public to recycle and keep areas clean if the correct bins or stands are in the right location for the relative waste streams.


Tip 4 –Use graphics and colours
Use images and colours, instead of just text. What's more, one high-impact graphics Waste stream labels are vital for success in highly populated areas. In fact, a recent study carried out in a University saw the amount of waste that was diverted from landfill to recycling increase by 163% when they used clear signage. A school reported a large increase of 71% in the waste they diverted from landfill when they used colour coding and graphics for segregation at source.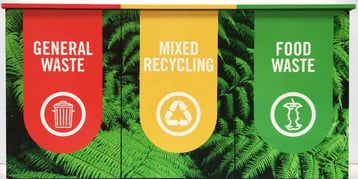 Replacing singular waste bins with 'mini recycling stations' will simplify sorting waste. Each cabinet is finished with a clear decal that has information about the type of produced in that area. i.e food, mixed recycling, general waste. Bespoke high-impact graphics can also be added to make your facility bins practical, informative and fun.

To learn more about our Multi Bin Waste Cabinet download the product PDF here.
Tip 5 –Keep good records
It's a good idea for managers to keep records from the start of their facilities management waste and recycling programme - such as how much waste the business disposes of, the types of waste streams that are recycled and the diversion rate from the landfill. By setting targets, making your recycling goals clear to employees and regularly reviewing them will help produce great results for your business.
We know your time is precious and we now offer on-line mini waste audits, these can be done by phone, smart phone for video walk round.
All our team have over 10 years of experience in the waste and recycling industry and would to love to share some ideas, Contact us today on 0800 342 3177 or click below to book an appointment.
15 minute Free no obligation mini online waste survey
at a time to suit you.