February 17th marked the start of the Tour Aotearoa Brevet 2020. Held every two years, this self-supported, amazing 3000km route from Cape Reinga to Bluff, was carefully designed by cycling guidebook writer Jonathan Kennett.
The Tour Aotearoa is known as one of the world's greatest bike riding routes and is high up on the bucket list for many. It follows a combination of stunning cycle tracks, paths and trails which was created specifically by Jonathan to highlight the very best of New Zealand's iconic sites of both cultural importance and natural beauty.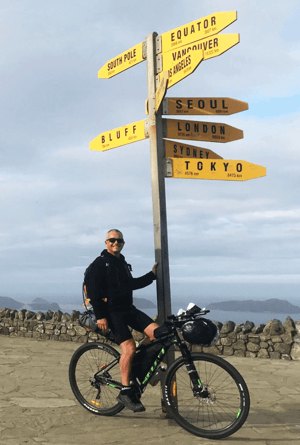 Jon, director and founder of Easi Recycling, is keen to participate. When we asked Jon what prompted him to undertake such a challenging (albeit beautiful) ride, he told us: "he takes every opportunity to see more of the beautiful country that he lives in and that the Tour Aotearoa ticked many boxes."
However, his motives run deeper – he's also on a mission. Jon says: "Riding is an environmentally-friendly way to see the natural beauty New Zealand has to offer. Incorporated in the ride, I aim to raise awareness of the waste that we produce and throw away. My goal is to encourage people to look at the alternative options to the choices we make when buying products, not just in our country but globally."
However, the ride itself is no easy feat. Although the Tour Aotearoa is not a race, it follows a set course that must be completed within 30 days. Outside support is not allowed as tour riders are encouraged to support each other – which means no help from family and friends along the way. Participants are expected to be skilled, experienced and competent riders and are required to be self-sufficient for most of the trip.
So, of course our next question was how Jon will manage to tackle the issue of waste head-on and recycle while he cycles? Well, Jon tells us that he plans to strap one of our smallest Longopac recycling baskets to the back of his bike! If he collects an average of one piece of waste every kilometre, that will be 3,000 items during the duration of the course – that's dedication right there folks!
As a way to share their experiences, riders are required to take a few snapshots at certain locations along the way, to help encourage them to stop and enjoy the scenic journey. But, Jon plans to take things a step further. He will also be shooting some videos about what he noticed each day in relation to waste and discuss alternatives on how we could reduce, re-use of recycle the waste.
Jon also plans to see customers on his way through NZ and anybody else who would like to talk rubbish.
Watch this space! Keep checking back for more great content to come over the next four weeks. We promise to include photos of beautiful NZ, as well as updates on how Jon's ride is progressing. (Check out Facebook)
Conquering the length of New Zealand will no doubt create memories from this journey that will last a lifetime, with the added accomplishment of cleaning up NZ's countryside along the way.