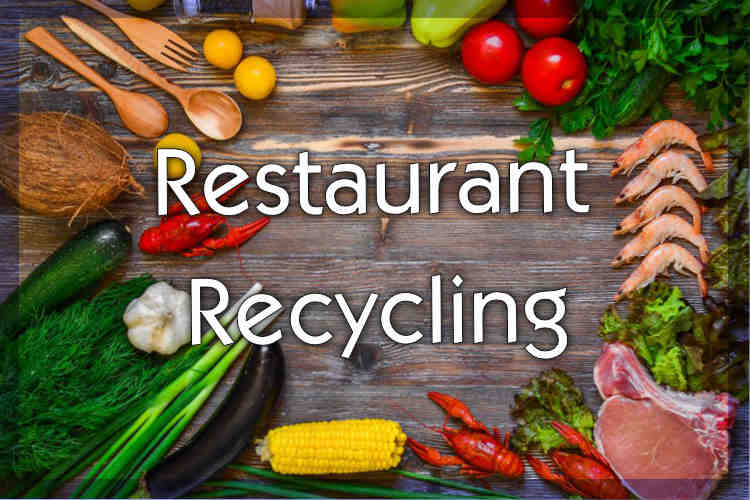 From leftovers to product packaging, the food industry generates a lot of waste on a daily basis. In fact, it's estimated that just one restaurant alone can produce over 1 tonne of waste per week. That being the case, it may be time to consider a restaurant recycling programme to help your food establishment efficiently dispose of all that waste…
Fast food chains, restaurants and bars will find that having a successful recycling programme in place will not only help them to become more environmentally friendly by reducing the amount of waste that's produced but it will also have a significant impact on waste disposal costs too.

By putting in a little extra effort and a measure of dedication, you can get your restaurant's recycling programme up and running in no time, saving on disposal costs and helping the environment - just follow our Easi recipe:
Step # 1: Conduct a waste audit

As the saying goes: 'if you can't measure it, you can't manage it.' Conducting a waste audit is vital in order to help you better understand exactly where your business is in terms of waste management.

In addition, it also helps you to spot any opportunities for improvement, both for your bottom line and the environment. You will be surprised how much of your waste can be separated, recycled and disposed of more efficiently. To learn more about our Easi Recycling waste survey, click here.


Step # 2: Reduce Waste

Thinking carefully about your supply streams. Focus first on what you bring into your restaurant and try to only buy items from your suppliers that use minimal, recyclable, reusable or compostable packaging. As an example, McDonald's have a goal to provide fast food in environmentally friendly materials globally by 2025.

Here are our top tips on how to reduce restaurant waste:

• Serve drinks on tap in a glass and offer refillable bottles
• Use Longopac endless waste bags, saving 70% on plastic
• Work with your suppliers ask for colour coded bins for mixed recycling, glass and food waste etc
• Change the menu in order to reduce leftovers
• Encourage 'doggie bags' in compostable containers reduce food waste
• Donate any leftovers to a good cause such as a food bank or shelter


Step # 3: Be Sure to Compost
It's estimated that around 60-80% of waste produced by restaurants is leftover food. Organic waste is a great resource that can be composted to help reduce soil erosion and produce soil fertilisers. By taking the time to separate organic food waste for composting, your establishment will not only divert more waste from landfill but can also help to reduce your waste disposal costs.

Most food scraps can be composted in a commercial facility. However, your options are more limited if you choose to compost on-site. Either way, you'll still significantly reduce the amount of food waste that you send to a landfill on a daily basis.


Here is what you should compost:
 Food scraps
 Fruit and vegetables
 Tea bags
 Newspapers
 Coffee grinds and filters
 Paper towels and napkins
 Compostable take out container




Step # 4: Have Designated Recycling Bins
The design and location of your recycling bin are important when it comes to restaurant recycling. Clearly signed mini recycling stations are perfect for front of house for fast food and practical stands on wheels in the kitchens with colour coded bags allow for easy segregation of waste at source.

With so many different types and sizes, choosing the right recycling bins for your establishment may seem like a daunting task. If you need a helping hand, please contact us our check out our website, we offer starter kits for restaurants.


Step # 5: Have clearly labelled graphics for customers

Restaurant customers have around two to three seconds to decide what to do when disposing of their food waste. If the bin signage is unclear, it creates confusion and leads to contamination of waste streams. Graphics play a powerful part in creating a successful recycling programme by helping to clearly communicate what waste goes where
.

At Easi Recycling, our bins are nicely finished with a clear label that identifies exactly what should be placed into each opening. If you prefer, bespoke graphics can be created in order to make your recycling bins fun as well as informative.


Step # 6: Assign a Waste Champion

Choose an enthusiastic employee who will lead and promote your restaurant recycling programme and provide training for your employees. Staff engagement is vital to the success of any waste management programme. It's essential that each employee understands the importance of correctly separating waste and they must learn which streams certain items belong in.

Your waste champion should take the lead in communicating and promoting the benefits of recycling to all staff members. Placing posters and signs around the kitchen and the employee area will help to establish guidelines and gently remind everyone to recycle. Furthermore, why not include your restaurant recycling programme in your employee handbook? This helps to make it part of their job expectation and training from day one.

Whether you decide to follow all or even just one of these steps for restaurant recycling, you'll be putting a green foot forward in helping to create a cleaner environment. If you'd like to learn more about restaurant waste management, Easi Recycling can help with our wide range of innovative solutions for use within the food industry.